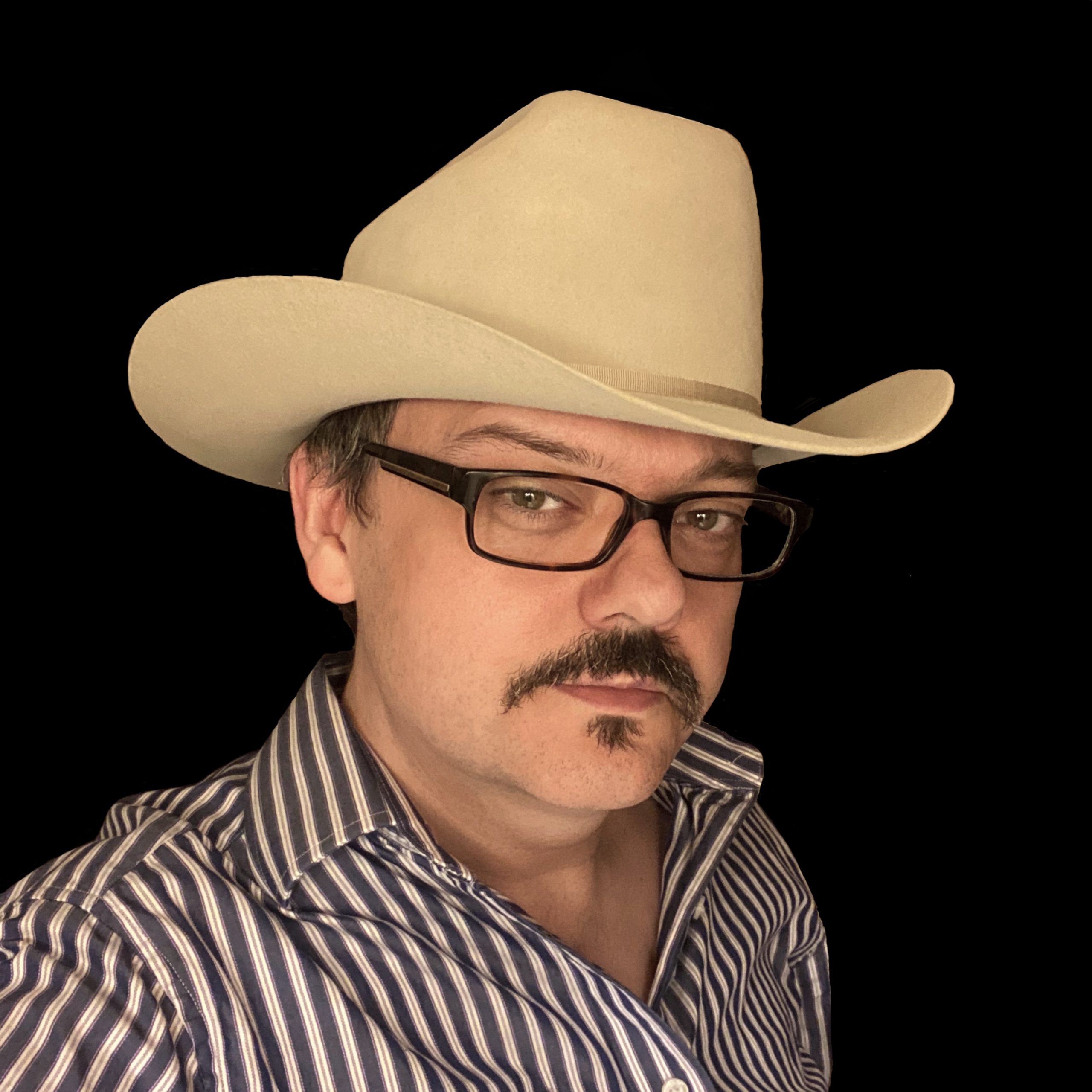 I want to personally welcome you to Stones & Fire!  Since 2019 we have provided mineral collectors all over the world with top quality rare and fine mineral specimens.  In addition to my passion for Mineral collecting I have studied the craft of Jewelry design and making since an early age.  Every piece of Jewelry we offer is handcrafted by me in my studio at Stones & Fire.  I find inspiration from various traditions of jewelry making including the Navajo Tribe of the Southwest US, ancient Egyptian, and various other cultures.
I want your shopping experience with Stones & Fire to be the best.  We offer Fast Shipping ~ Top Quality Products ~ Individualized Customer Service.  If you have any questions about our services or products please feel free to Contact Us
~ Marty
Owner/Jeweler/Stone Setter 
The Stones & Fire Jewelry Studio is where all of our handcrafted items are made.  In our studio we:
Hand Forge and Fabricate our Gold and Silver items
Cut and Cab Stones
Stone Setting Micro and Large
Evaluation and Authentication of Gemstones 
Custom Design Work
Resizing and Repair
Buffing, Polishing, Ultrasonic, and Steam Cleaning to finalize the piece of jewelry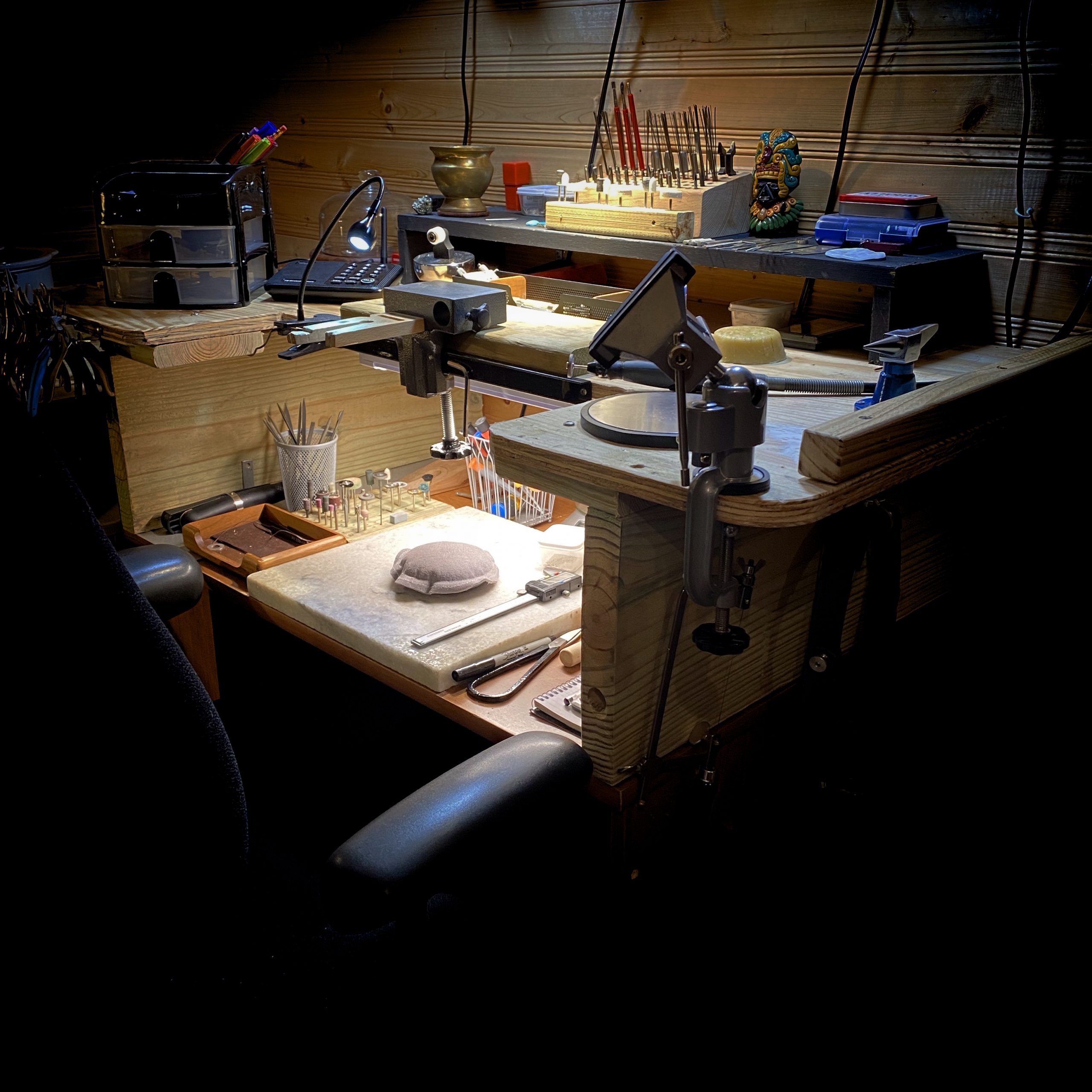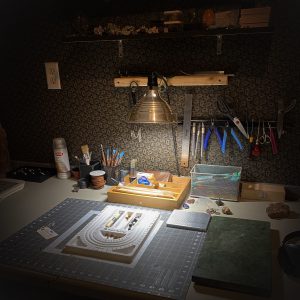 Design
The design room is where I choose the individual stones and metals for a particular Stones & Fire piece of Jewelry. I have a wide selection of ethically sourced gems and precious metals that I use to handcraft our pieces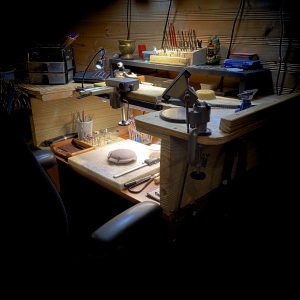 Handcrafting
The heart of the studio is the bench and soldering station. This is where Marty takes the designs and handcrafts them into a beautiful piece of Stones & Fire Jewlery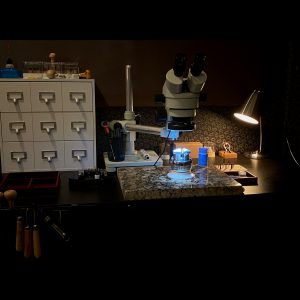 Stone Setting
Stone Setting is one of my passions as a Jeweler. All of our stone setting is performed by me in my stone setting studio at Stones & Fire. Setting I specialize in are Micro Pave, Fishtail, French, and of course cab settings. Marty also uses specialized drilling tools for pearls, opal, and fossil material. Whatever the stone setting need we have the equipment and expertise to properly seat any stone. For questions about our stone setting services please contact us.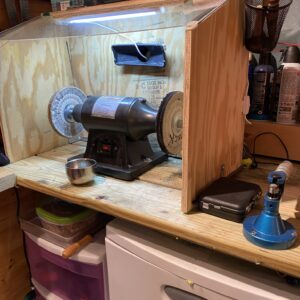 Polishing & Finishing
The final step in the process is the polishing and finishing. We tumble each piece of Jewelry prior to setting the stones. This ensures all surfaces are smooth and the metal is work hardened. Which means that each piece is strengthened for durability. After the piece has been in the tumbler for several hours it is buffed and polished using our buffing machine and a special blend of compounds. Finally, the piece is cleaned in our commercial ultrasonic machine and steamed or hand brushed depending on the particular stone.
A selection of our most commonly asked questions:
The short answer to this is yes, Sterling Silver does tarnish.  The reason this occurs is because pure silver (.999) is a very soft metal and is not suitable for everyday wear.  Therefore, sterling silver (.925) is hardened by adding additional metals, specifically Copper.  It is the Copper that causes the tarnish.  The good news is tarnish is easily removed with a Silver Polishing cloth.
It is possible to electroplate Sterling with rhodium or other e coatings.  This will prevent tarnish for a period of time.  However, no plating is permanent.  Eventually the plating will wear off and tarnishing will return.  Electroplating Sterling is not a very cost effective way to prevent tarnish.    
In general North American Turquoise is very soft.  Stabilization is the process of adding an epoxy to the turquoise and then using a vacuum chamber to cure and remove any bubbles.  Stabilization does NOT mean the turquoise is fake or of low quality.  It is simply done to allow for the everyday wearing of the stone.  In some instances a lapidarist will add dye to the epoxy.  We do not use turquoise that has been dyed.  
Absolutely Not!  An ultrasonic can weaken the stone and basically shatter it or make it crumble into pieces.  An Ultrasonic cleaner is just too harsh for Turquoise and many other gemstones.  
To clean your turquoise ring just use some warm water, a toothbrush, and some dish detergent.  This is the safest way to clean your Stones & Fire turquoise ring,
The short answer is maybe.  In the product descriptions of our rings we list if it can be resized.  Sometimes due to the way a ring is constructed resizing is not advisable.  If you have questions about resizing please Contact Us and we will be glad to answer any questions.
In general I only like to resize a ring 1/2 size up or down.  More drastic resizing can be performed on certain rings, but it is often discouraged.  
Absolutely!  The Turquoise I use in Stones & Fire rings are all genuine.  I do not use howlite, magnesite, dyed or solid resin fakes in any of my rings. 
Most of the Turquoise I use is stabilized to increase the strength of the Turquoise.  Sometimes I do use non stabilized turquoise if the stone is strong enough and contains no significant inclusions.  I always list this in the product description  
At the moment we only offer repair services for our Handcrafted Jewelry.  It is possible in the future general repair services might be offered.  Sign Up for our newsletter get news when that happens.
Turquoise is a very soft gemstone. In fact, it ranks on average between a 5-6 on the Mohs hardness scale (the scale used to determine
Read More »
By Marty Vickery We have a lot of exciting things we are working on here at Stones & Fire!  One of these things is new
Read More »